The other day when I was sitting on my couch with my laptop on my lap, something very odd happened, my screen started flashing all different coloured horizontal lines on my screen, these lines filled the screen up it lasted about 6-20 seconds where then, I assume my laptop crashed and the screen was black, but the LCD screen was still on and this loud static noise was coming from the speakers.
I just ignored it, as I thought it was just a technical hitch.
The next day, this type of crash happened about 6-12 times, spaced about 15 minutes.
Yet again, I ignored it.
Then the next day, this crash became constant, the first time I turned it on it lasted about 8 minutes before crashing, each time getting shorter and shorter,.
I searched around on the internet for 2 days after that and discovered, it was "a graphics card error" and that it was "overheating", however I was convinced the integrated graphics was in the processor? But upon opening my laptop up I was indeed wrong and it does seem to be separate card, here is a sample image of my "integrated graphics":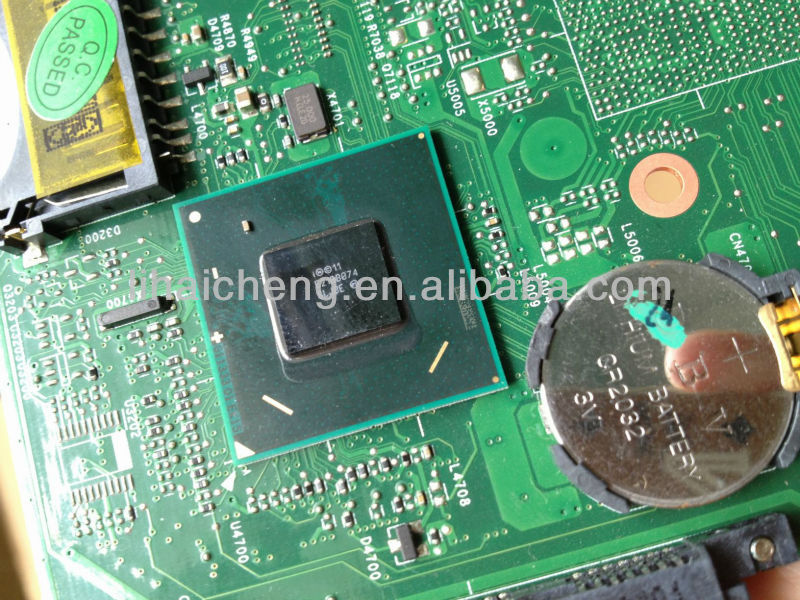 Before you ask, yes my laptop "gpu" looks exactly like the one in the photo and unlike my old laptop, it didn't even have the heatsink connected up to the fan like the processor.
The second I firgured out it was the gpu overheating I put some thermopaste on it, taped a piece of aluminum to it then... I taped a bag of icecubes to the alliminium, whenever I have icecubes taped to this piece of alliminium, my laptop does not overheat, but when it's not on the alliminium, it overheats and crashed within a few seconds.
I even compared stress tests with and without the laptop and it's quite evidence, this chip is 100% the problem.
I just want help or advise on how to make this chip go back to normal and stop overheating on me? As I want to use my laptop as a laptop, instead of using it like a desktop, upsidedown with icecubes taped to my motherboard.
I will include my specifications and all the possible fixes that I have investigated to not help.
Fixes I have tried:
[X] Cleaning the fan/heatsink, both are extremely clean, I even cleaned my laptop fan with a pressured hose and put my heatsink in washing up liquid to remove all dirt or burnt dust. So there is no dust in my laptop.
[X] Scanning computer for errors with multiple programs like Chsdsk
[X] It is not faulty RAM
[X] It is not a faulty disk, I bought a brand new SSD the other day, I even changed back to my HDD to test if it was the SSD.
[X] I tried some DIY and got some copper and stuck it on to the top of the chip to my copper heatsink, that just ended up overheating the heatsink, and it was removed immediately.
Possible fixes that I have not tried.
[X] Reflowing my motherboard and graphics.... OF COURSE I DON'T WANT TO PUT MY MOBO IN THE OVEN. x'D
Should I bother pursue to fix this? Do ye have a solution? Should I just buy a new computer ( desktop this time )?
Background information and specifications.
Background information.
My laptop is currently two years old, it's a Toshiba C855-1J2, I'm a heavy gamer and I produce YouTube gaming videos, so I have put my laptop through a tough time. When I strap ice to this chip, my laptop will run fine no matter what I put it through.
Specifications.
System 

---

| | | |
| --- | --- | --- |
| | Manufacturer | TOSHIBA |
| | Model | SATELLITE C855-1J2 |
| | Total amount of system memory | 6.00 GB RAM |
| | System type | 64-bit operating system |
| | Number of processor cores | 2 |
Storage 

---

| | | |
| --- | --- | --- |
| | Total size of hard disk(s) | 238 GB |
| | Disk partition (C:) | 185 GB Free (238 GB Total) |
Graphics 

---

| | | |
| --- | --- | --- |
| | Display adapter type | Intel(R) HD Graphics 4000 |
| | Total available graphics memory | 1696 MB |
| |       Dedicated graphics memory | 64 MB |
| |       Dedicated system memory | 0 MB |
| |       Shared system memory | 1632 MB |
| | Display adapter driver version | 10.18.10.3621 |
| | Primary monitor resolution | 1920x1080 |
| | DirectX version | DirectX 10 |
Network 

---

| | | |
| --- | --- | --- |
| | Network Adapter | Realtek RTL8723AE Wireless LAN 802.11n PCI-E NIC |
| | Network Adapter | Realtek PCIe FE Family Controller |
| | Network Adapter | Bluetooth Device (Personal Area Network) |