I'm using the PCIe slot card version of the Optane 900P as the OS and boot drive and two conventional hard drives for storage (not in RAID config),  with a 8700k and an Asus Rog Maximus X Hero motherboard.
In the bios, I have two options for SATA Mode selection :
- AHCI
- Intel RST Premium With Intel Optane System Acceleration (RAID)
Is there any performance difference between the two? When I installed the OS (Win 10) it was set up on default setting AHCI, could I still switch to RST if that offers tangible performance benefits, or would I have to wipe the Optane and install Windows anew?
I've noticed that the Computerbase Benchmark with AS SSD produces a vastly better performance for 4k-64Thrd read score: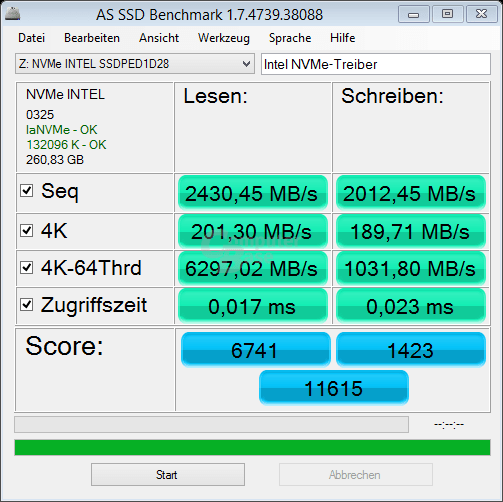 This is how my Optane does in comparison:
Strangely, the write score is better on my Optane, but overall score is still significantly lower. Of course the Computerbase benchmark did bench the Optane as a secondary drive, not as the OS drive, so that might figure in.
The other benchmark graphic of the AS SSD benchmark mentions "Ram Caching!", so I assume that has something to do with the vastly improved read performance? How do I enable that - or should I? What are the benefits?
Another AS SSD benchmark on SSD Reviews shows a benchmark very similar to mine, just a tad bit faster in every  score though:
Finally, the Computerbase CrystalDiskMark score on the empty Optane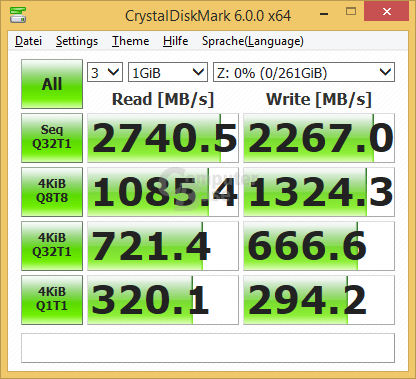 performs better in every category, but way worse than mine in 4KiB Q8T8.
-----------------------------------------------------------------------
CrystalDiskMark 6.0.0 x64 (C) 2007-2017 hiyohiyo
                          Crystal Dew World : https://crystalmark.info/
-----------------------------------------------------------------------
* MB/s = 1,000,000 bytes/s [SATA/600 = 600,000,000 bytes/s]
* KB = 1000 bytes, KiB = 1024 bytes
   Sequential Read (Q= 32,T= 1) :  2684.577 MB/s
  Sequential Write (Q= 32,T= 1) :  2258.161 MB/s
  Random Read 4KiB (Q=  8,T= 8) :  2347.825 MB/s [ 573199.5 IOPS]
Random Write 4KiB (Q=  8,T= 8) :  2214.870 MB/s [ 540739.7 IOPS]
  Random Read 4KiB (Q= 32,T= 1) :   682.370 MB/s [ 166594.2 IOPS]
Random Write 4KiB (Q= 32,T= 1) :   616.936 MB/s [ 150619.1 IOPS]
  Random Read 4KiB (Q=  1,T= 1) :   277.560 MB/s [  67763.7 IOPS]
Random Write 4KiB (Q=  1,T= 1) :   241.043 MB/s [  58848.4 IOPS]
  Test : 1024 MiB [C: 8.8% (39.1/446.5 GiB)] (x3)  [Interval=5 sec]
  Date : 2018/01/04 2:16:25
    OS : Windows 10 Professional [10.0 Build 16299] (x64)
Bottom line: Did I miss a setting to improve performance in either BIOS or Win10? Can - and should I switch from AHCI to RST in the Bios, given that I use the 900P as a systems drive and two hdds not in raid as storage?